Invisible Worlds Residency 2019
*The studio that led this project is now called Then Try This - you may find more up to date information on the Invisible Worlds Residencies on their new website*
Invisible Worlds Residencies are an ongoing collaboration between the Eden Project and FoAM, based at the Invisible Worlds exhibition at the Eden Project. The call is now closed. We received applications spanning four continents, including farmers, musicians, sculptors, geneticists, dancers, chefs, botanists, physicists, poets, designers, engineers, needle felters, photographers, and more.
You can read about Austin Houldsworth's residency here.
The original advert is below:
The 2019 Invisible Worlds Residency is open to all artists, scientists, creators and makers, to explore phenomena beyond our senses: too vast, too small, too fast, too slow or too far away in space or time. Residencies are a chance to step away from your usual situation, working in new surroundings for a short period of time. You can use the time to develop risky new ideas or develop an existing project in a unique environment, with support from public engagement specialists, educators and horticulturalists from the Eden Project and FoAM. The residencies can be individual or shared by more than one person, for example a collective or family.
Your residency must be designed around the Eden Project visitors – for example you could do an exhibit, workshop or event, or set aside days where you will work on your project in the open and involve the visitors as they come by. The Eden Project audience is very broad, and not a typical museum-visitor demographic – the main group of visitors is likely to be young families with children, so you need to consider what will work best for this group.
The maximum residency budget is £2,000 - this can be used to cover any associated costs, for example travel, accommodation, childcare, materials, and fees. The work produced during the residency needs to be made freely available using open-source methodologies (Public Domain or CC BY licences).
The residency should be split into two blocks of time:
Phase I: To take place between 2 September -14 October – here you will have the chance to explore the site, and work with the Eden Project and FoAM to develop and pilot your public engagement plans. This phase can be anything from 3 days to 2 weeks long.
Phase II: To take place over the half term 21 October - 1 November – this is to ensure high visitor numbers and maximum exposure for your work. This phase can be between 1 and 2 weeks long.
The Eden Project is in an isolated location and accommodation is not included with the residency. However, basic accommodation may be available on site costing £20 (single) /£28 (twin) /£45 (double en-suite) per night. It is possible to bring a child and/or a care provider, and there is wheelchair accessible accommodation available (YHA Snoozebox). We can help you to find appropriate accommodation and car access if required, but this must be covered within your budget.
Facilities available for residents:
Main laboratory space – equipped with microscopes, a large screen, and tables. This provides space to run workshops, show prototypes, exhibit work, or perform audience testing. This is a public area and there is visitor footfall through this space – it is not suited to quiet work.
Private laboratory – equipped with laminar flow hood, fridges, freezers, incubator, and microscope. This space is locked but is visible to the visitors.
Professional kitchen/cafe – can potentially be used by residents for engagement activities at off-peak times.

What we want in return:
A public engagement output at the Eden Project during the course of the residency – e.g. an event, workshop, exhibit, or openly working on your project and involving the visitors.
A blog post covering your time on the residency – to be co-posted on Eden Project and FoAM sites. Consider how to maximise the legacy of your work by making images, methods, software etc. freely available via your blog.

How to apply:
Applications for Invisible Worlds Residencies are in two stages. For the initial application we would like you to provide the following in a single document:
Some text outlining who you are and what you would like to do, including your public engagement idea and what the legacy from your project might be (300 words maximum) – this can be accompanied by an image.
A brief breakdown of how you would use the budget.
Preferred dates for when your residency would take place (remember to include both phases).
A link to your work online.
Transdisciplinary projects are encouraged - if you need advice on people to work with from different disciplines, please make this obvious in your application document.
This must be emailed by 20 April 2019 (up to midnight).
Timeline:
20 April 2019 Deadline for first stage applications.
26 April 2019 Decisions sent for first stage applications. Selected participants will be invited to complete a second stage application, consisting of a short document (max 2 pages) based on a form that we will send to those who are successful – this will allow you to expand a little on your ideas and budget.
17 May 2019 Deadline for second stage applications.
23 May 2019 Short skype or phone call, or meeting in person with those shortlisted – all applicants need to be available on this date.
24 May 2019 Final decisions sent out.
Applications will be reviewed by FoAM and the Eden Project.
You can read about the 2018 Invisible Worlds residencies here.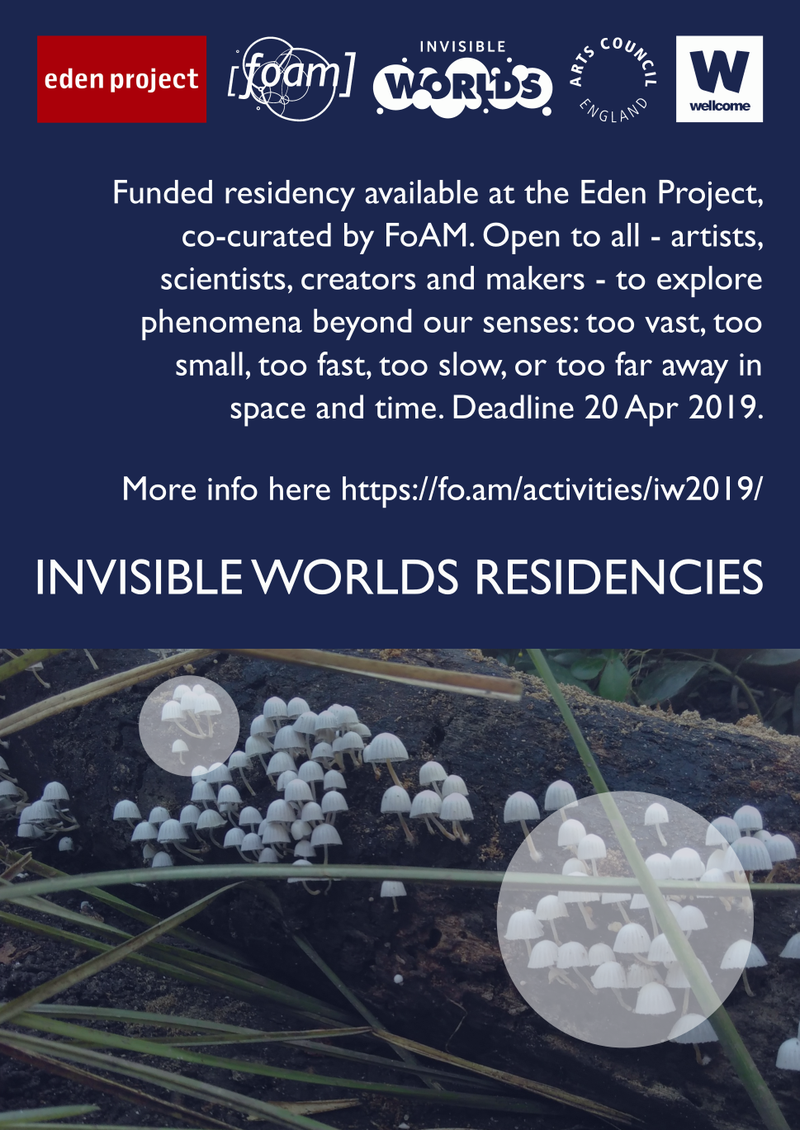 Created: 26 Mar 2019 / Updated: 21 Apr 2022