Bumper Crop
Posted June 4, 2014 by Dave Griffiths
Bumper crop is an android game I've just started working on with Dr Misha Myers as part of the Play to Grow project: "exploring and testing the use of computer games as a method of storytelling and learning to engage urban users in complexities of rural development, agricultural practices and issues facing farmers in India."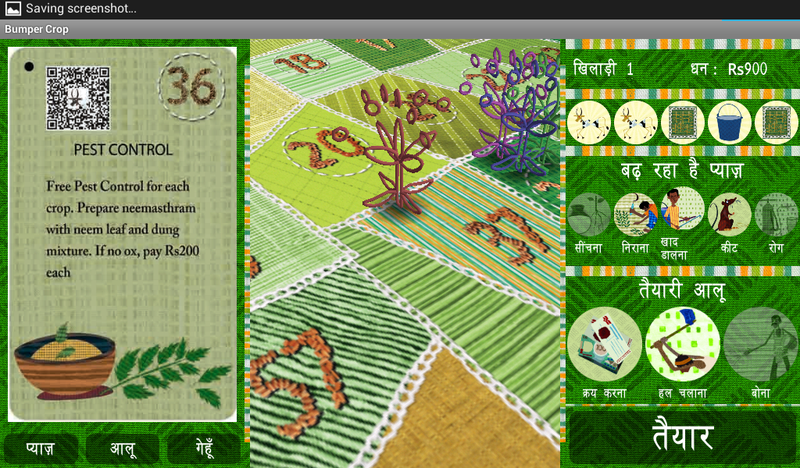 (Warning - contains machine translated Hindi!)
I'm currently working out the details with artist Saswat Mahapatra and Misha, who have been part of the team developing this game based on fieldwork in India working with farmers from different regions. They began by developing a board game, which allowed them to flexibly prototype ideas with lots of people without needing to worry about software related matters. This resulted in a great finished product, super art direction and loads of assets ready to use. I very much like this approach to games design.
From my perspective the project relates very closely to groworld games, germination x, as well as the more recent farm crap app. I'm attempting to capture the essence of the board game and restrict the necessary simplifications to a minimum. The main challenge now that the basics are working is providing an approximation of bartering and resource management between players that board games are so good at, into a simple interface - also with the provision of AI players.
Source code & Play store (very alpha at the moment!)
Created: 15 Jul 2021 / Updated: 15 Jul 2021