A shrine « Anything but the weevil »
This event has passed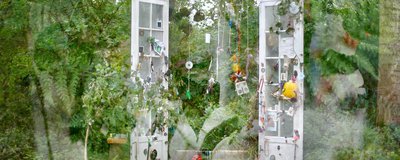 28 & 29 of August, 4 & 5, 11 & 12 of September From 11h to 18h
Departure: Sint-Dionysius Church of Sint-Denijs-Boekel (Vredesplein 36, 9630 Zwalm)
Since 1997, kunst & zwalm has been a biannual art route in the Zwalm area. Artists create in situ art works or perform interventions in the landscape and/or including local residents. For the edition kunst & zwalm 2021, 24 artists will present new works installed along the parcours in the surroundings of Wijlegem, Sint-Denijs-Boekel and Korsele.
More infohttp://www.kunst-en-zwalm.be/wordpress/
Installation by Rasa Alksnyte (member of FoAM)
A shrine « Anything but the weevil »
There is something attractively collective and democratic about public shrines. There is no author, director or designer of it. Only the initial form frame is created by a person(s). What happens after is beyond control. Informal participation of passersby, spontaneous rituals create everchanging visual aesthetics and energetical charge.
"Anything but the weevil" is a shrine for all invisible, imperfect, insignificant yet diverse and precious creatures (dead or alive) we are surrounded by everywhere and all the time. These creatures, no matter how common or even useless they might seem to be, have hidden powers that guide us into a world of fantasy and magic. This shrine invites you to take a moment to look around and search for what you might find precious, beautiful and worthy exactly on the spot that you are standing on. Once you do find it, you can create your own contribution to the shrine to celebrate your insignificant element of beauty. This growing shrine is our growing tale of what we appreciate most nowadays. Because when we talk about folklore, we forget that also now we are creating our own tales, traditions, rituals that will be passed on to the generations to come.
Special thanks to FoAM Zenne, Pieter De Wel, Caroline Daish, Justine Maxelon and Dajo De Cauter.
Location
Kunst & Zwalm, Vredesplein 36, 9630 Zwalm, Belgium